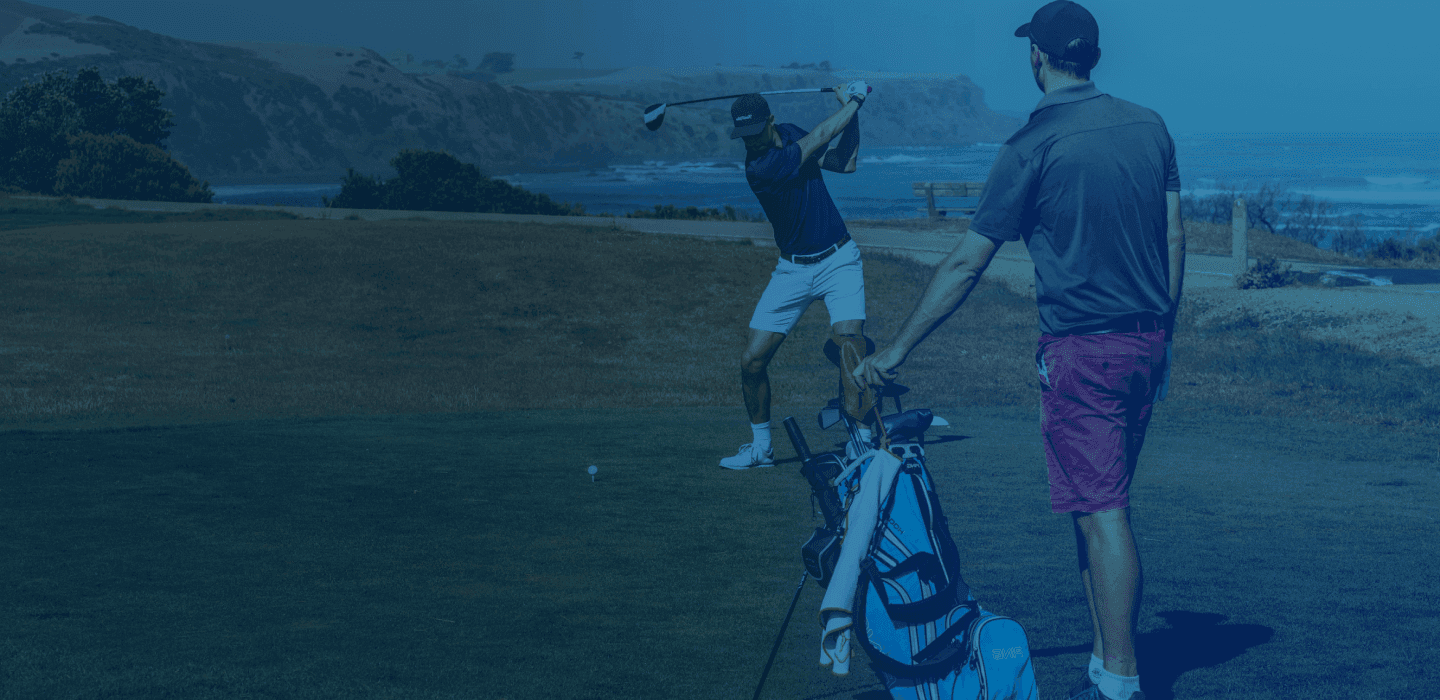 We take the hassle out of booking tee times
Like you, we love the game of golf and find every opportunity to get out and play. The beauty and serenity of the course, combined with the mental and physical challenge keeps us coming back again and again. Nothing compares to a great round shared with friends.
Unfortunately, booking a tee time is a real drag. It's difficult to search multiple courses at once in a race to find the right tee time - especially when tee times are in such high demand. We've all been there and that's why we're here: to help fellow golfers find the right tee time - free of all the hassle.
We love being on the course
It all started at Pebble Beach
A few years back, on a brisk and sunny California day, Matt Holder and his friends played Pebble Beach all together for the first time. Everything was easy and stress-free from finding a tee time to checking in and playing - and Matt played his best round to date.
Back home, Matt was struggling to organize a golf round with friends. He realized that finding tee times at his local courses was always challenging and nowhere close to stress-free like it was at Pebble. Staying up until midnight to search course-by-course only to watch good tee times quickly disappear made it hard to enjoy golf.
There had to be a better way...
Matt wanted to find a way to make finding the right tee time easy and stress-free. He got together with Pablo Kang and a few work friends to start building a tool that made finding and booking the best tee times quick and easy. Soon after Loop was born.
Since then we've built and launched Loop - a marketplace for golf helping golfers in the US find and book the hottest tee times at their favorite local courses. We're continually improving our site by offering more courses and more ways for golfers to secure the very best tee times.
40,000
Courses Supported
Use our free golf performance app at over 40,000 courses worldwide
100M+
Rounds of Golf Available
Shop millions of rounds of golf from thousands of courses across the US
150
Countries
Golfers from all over the world are on Loop
What our customers say about us
I love the ease of tracking distance-to-pin and my score on my Apple watch.
The social aspect is fantastic being able to follow where my buddies are playing, how they played each hole and how they're scoring. Loop inspires me to play more golf!
Bryan Baskin
Menlo Park, CA
Loop makes is easy to track my rounds, see where my friends are playing and how they're doing.
It's fun to see how my friends play courses I've played and to discover new courses to add to my wish list.
Kenny Tucker
Menlo Park, CA
The Loop golf app has been an amazing tool for not only scoring my rounds, but keeping track of key stats to see where I struggle so I know how where I can improve my game. It's no coincidence that my index went from 4.2 to 0.8 since using Loop.
Founding Team
Matt Holder
Head of Product
Matt is formerly Head of Product at CarGurus/Autolist - the largest online used car marketplace in the US. Prior to CarGurus, Matt led industry product at Houzz leading the development and growth of the Pro+ suite of products for home design and construction professionals. Prior to Houzz, Matt was Director of Product at Zillow and Trulia helping grow the Premier Agent platform.
When not working on building Loop, you can find Matt posting his loops on the Loop app at courses all over his native SF Bay Area, advising other startups, skiing and trying not to injure himself playing recreational softball for the (self-proclaimed) world famous Dad Bods.
Pablo Kang
Head of Engineering
Pablo is formerly Founding Engineer at RidePanda - an enterprise marketplace for e-bikes and e-scooters. Prior to RidePanda, Pablo was Head of Engineering at CarGurus/Autolist leading the development of the largest, mobile used car marketplace in the US. Prior to that, Pablo was an engineering leader at Scoot (acquired by Bird Scooters), Change.org, GoodSearch and many other startups throughout his career.
When not working on building Loop, you can find Pablo shredding the mountains, advising other startups, knitting large tapestries depicting medieval battle scenes, frequenting cat cafes and smoking other cars in his 650hp Dodge Dart.